This post brought to you by Dollar General. All opinions are 100% mine.
If I had to choose only one kind of music to listen to for the rest of my life it would be country music, without a doubt it's my favorite.  Sure I like rock, some hip-hop, metal, and pretty much a little bit of everything.  If you're a country music fan you're probably excited that you can enter to win a trip to the Academy of Country Music® Awards (ACM Awards).  Oh you didn't know!!  We'll I have good news for all you country music loving people out there than!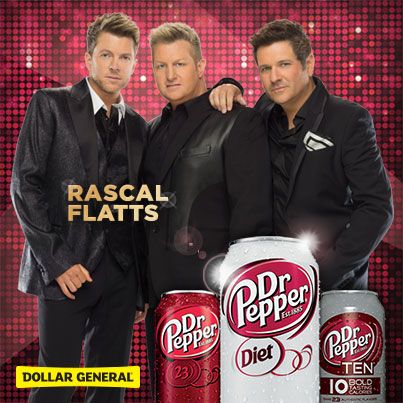 It's exciting enough to watch the ACM Awards on TV, right!  Could you imagine winning a trip to the ACM Awards?  I think that would be worth screaming, and jumping up and down, scream "RED CARPET, RASCAL FLATTS, ACM AWARDS HERE I COME!"  I don't think my husband has ever heard me scream.  Not even on those SUPER SCARY rides at Six Flags.  He sure would he me scream if I won a trip to the ACM Awards though.
Enter To Win A Trip To The ACM Awards
Right now you can enter to win a trip to the ACM Awards, and be treated like a huge star!  The winner will walk the red carpet with country celebrities like Rascal Flatts!  I know right, I'm screaming in my head thinking of how exciting this would be.  I just love Rascal Flatts, and so many other country music singers.  Entering is super easy, it's all over on Dollar Generals website.
Rascal Flatts is one very talented man.  I love so many of his songs, but a few of my favorite are
Next to You, Next to Me
Bless The Broken Road
Banjo
Prayin For Daylight
She'd Be California
Summer Nights
I have two all-time favorite country songs – Have Mercy by The Judds (when they were The Judds), and Rodeo by Garth Brooks.  Sure I love tons of the new stuff, but it's the older stuff I grew up listening to that makes me two-step while I'm cleaning.  I could go on and on, there are too many good songs to only choose a few.  Rather than reading me name off my favorite country songs by Rascal Flatts, let's talk about the details about this ACM Awards Trip of a lifetime.
The ACM Awards has joined Dr Pepper to create this awesome chance of a lifetime available to you on the Dollar General website!  YUP, I'm not even joking I had to check it out for myself, and it's really there.  What are you still doing here, get over there and fill out the Dr Pepper ACMA Registration!
Hurry over and fill out the Dr Pepper ACMA Registration to enter for a chance to win a trip to the ACM Awards, and meet all kinds of amazing, super talented country singers!
Leave me a comment and let me know what your favorite country song is, or who your favorite country singer of all-time is.