Share the post "Cute Chocolate Covered Cherry Mice Recipe"
Okay so one of the girls from work came to work with these super cute little Cute Chocolate Covered Cherry Mice! What a cute idea isn't it! So cute that I had to share. We all love Chocolate Covered Cherries right? I sure hope so, if not they're still fun to make and a great treat for you party, for those that do love them. These Chocolate Covered Cherry Mice are super easy to make, and loads of fun. I made some with my kids this weekend. We made a mess, laughed a lot, and all cleaned up together. We had a blast doing it, and the reward was super sweet! They're almost so cute you don't want to eat them, lol. I hope you enjoy!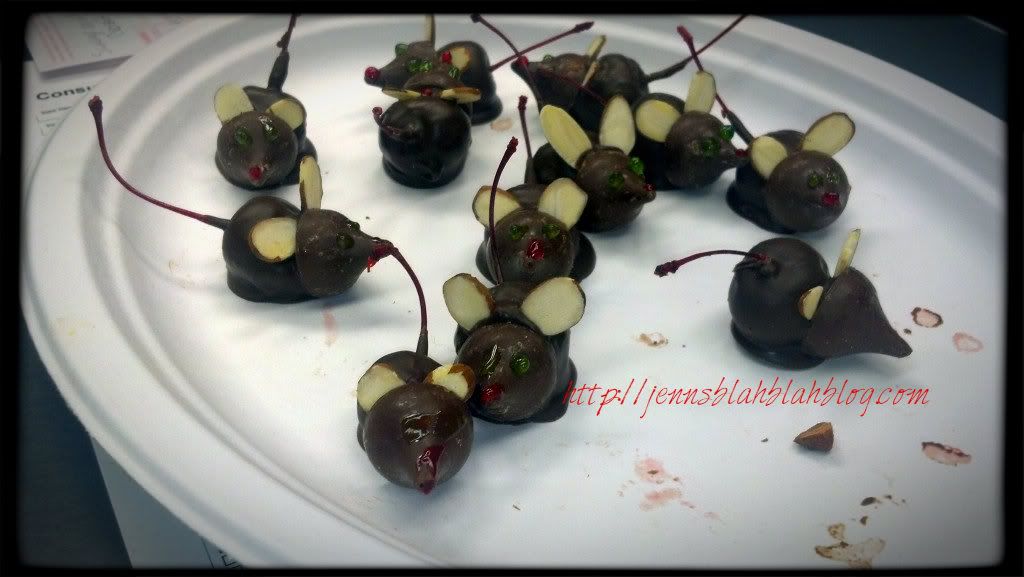 Cute Chocolate Covered Cherry Mice Recipe
Print recipe
| | |
| --- | --- |
| Meal type | Dessert |
| Misc | Child Friendly, Freezable, Serve Cold |
| Occasion | Barbecue, Birthday Party, Casual Party, Christmas, Easter, Formal Party, Halloween, Thanksgiving, Valentines day |
Serve immediately or store in an airtight container in the refrigerator for up to 3 days.
Ingredients
24 large Cherries
2 bags Hershey Chocolate Kiss Candy
1 bag Sliced Almods
1 tube Red Gel Cake Icing
1 tube Yellow Gel Cake Icing
Directions
Step 1
Melt down 1 bag Hershey Kiss Chocolate Candy
Step 2
Carefully pick cherries up by the stem and dip, you may have to repeat this step until cherries are completely covered in chocolate.
Step 3
Place the cherry on the baking sheet and repeat until all of the cherries are covered with chocolate.
Step 4
Use the Gel Cake Icing to clue a Hershey to the cherry. This will be the mouse head...
Step 5
Use icing to glue the sliced almonds to the top of the Hershey Kiss. Make it look like ears.
Step 6
Now use the yellow icing for the eyes, and the red icing for the nose. All you need is little dots.
Step 7
Place them in the fridge for one hour to let completely harden.
Share the post "Cute Chocolate Covered Cherry Mice Recipe"